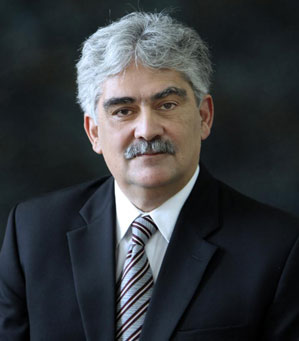 Dr. Nadeem Ul Haque is a former Deputy Minister of Planning for Pakistan and former IMF Resident Country Representative for Egypt and Sri Lanka. He has wide-ranging operational experience with over 24 years at the International Monetary Fund, including leading technical assistance missions and policy and research teams. Dr. Ul Haque has a strong background in economic analysis and policy development, reflected in numerous publications in academic and policy journals and conference participation.
As the IMF Representative for two central banks, he organized a modernization effort, which included improvements in the monetary framework and the policy formulation process. He also led organizational reform and efforts for nationwide deregulation in Sri Lanka. To ensure success of the reform efforts in Sri Lanka, Dr. Ul Haque led the highly successful public dialog with civil society and was the initiating member and architect of Deregulation Committee, Financial Market Reform Committee and Chambers-Academia Round Table for Education Reform. In each case, the committee was by private sector based, with limited official participation. Such committees helped sharpen the domestic debate and raise awareness of the need for reform.
TDr. Ul Haque is a skilled public speaker with ability to develop and lead public debate in diverse topics. He has published 5 books and over 50 papers in major journals and edited volumes.
Publications:
- Do government wage cuts close budget deficits? Costs of corruption IMF Staff Papers Haque Nadeem U.L. Sahay Ratna 1996
- The Economic Content of Indicators of Developing Country Creditworthiness IMF Staff Papers Haque Nadeem U.L. Kumar Manmohan S. Mark Nelson Mathieson Donald J. 1996
- Consumption in developing countries: tests for liquidity constraints and finite horizons Review of Economics & Statistics Haque Montiel 1989
- Adjustment with growth. Relating the analytical approaches of the IMF and the World Bank Journal of Development Economics Khan Mohsin S. Montiel Peter Haque Nadeem U. 1990
- Capital mobility in developing countries: Some empirical tests World Development Haque Nadeem U. Montiel Peter 1991
- Estimation of a macroeconomic model with rational expectations and capital controls for developing countries Journal of Development Economics Haque Nadeem U. Lahiri Kajal Montiel Peter 1993
- Macroeconomic effects of anticipated devaluations with informal financial markets Journal of Development Economics Agénor Pierre-Richard Haque Nadeem U. Montiel Peter J. 1993
- An empirical "dependent economy" model for Pakistan World Development Haque Nadeem U. Husain Aasim M. Montiel Peter J. 1994
- Macroeconomic management with informal financial markets International Journal of Finance and Economics Agénor Pierre-Richard Haque Nadeem U. 1996
- Issues in the designing of public sector reform Pakistan Development Review Haque 1999
- The economics profession in Pakistan: A historical analysis Pakistan Development Review Haque Khan 1999
- The quality of governance: 'Second-generation' civil service reform in Africa Journal of African Economies Haque Nadeem Ul Aziz Jahangir 1999
- A forward-looking macroeconomic simulation model for a developing country Journal of Policy Modeling Haque Nadeem Ul Montiel Peter Symansky Steven 1991
- Fiscal austerity and public servant quality Economic Inquiry Haque Nadeem Ul Montiel Peter Sheppard Stephen 2000
- Comments Pakistan Development Review Haque Nadeem Ul 2005
- Perception survey of civil servants: A preliminary report Pakistan Development Review Haque Nadeem U. Din Muslehud Idrees Khawaja Malik Wasim Shahid Khan Faheem Jehangir Bashir Saima Waoar Syeda Izzah 2006
- Awake the sleeper within: Releasing the energy of stifled domestic commerce! PIDE Working Papers Haque Nadeem Ul 2006
- Why civil service reforms do not work PIDE Working Papers Haque Nadeem Ul 2007
- Entrepreneurship in Pakistan PIDE Working Papers Haque Nadeem Ul 2007
- Institutional development: Skill transference through a reversal of 'human capital flight' or technical assistance Pacific Economic Review Haque Nadeem Ul Khan M. Ali 2007
- Impact of export subsidies on Pakistan's exports PIDE Working Papers Haque Nadeem Ul Kemal M. Ali 2007