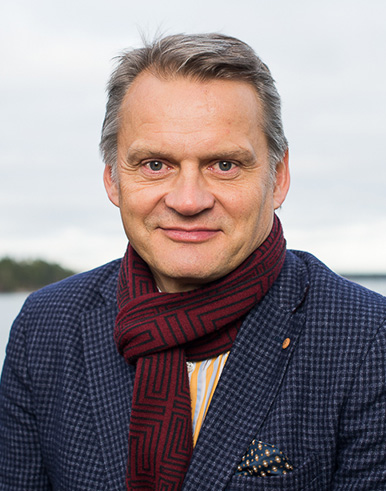 Education
Doctor of Political Sciences (1997)
Garden Architect (1988)
Experience and Main positions
Professor, 1.11.2014–
Senior Advisor, 2012–31.10.2014
Professor of Futures Studies In Turku School of Economics 2004–2012 (as of 1 Jan 2010 University of Turku)
Senior advisor/ Allianz SE Jan 2010 – Jan 2011
Senior Vice President at Allianz SE / Munich, Germany Dec. 2007 – Nov 2009
Director of Finland Futures Research Centre 1999–2001, 2003–2005
President of three foundations
Partner of a start-up company
Member of Club of Rome
Fields of Expertise and Professional Interest
Dr. Markku Wilenius' (born in 1961) interests lie in understanding the challenges and possibilities of the long-term future and bringing this foresight to the strategic thinking of society and companies. During his career he has served in surplus amount of major companies and high-level governmental bodies to bring new insight to their future activities.
Markku Wilenius has always actively pursued to foster and systematize the position of strategic thinking inside organisations. In this work, he has developed and articulated the concept of visionary leadership vis-à-vis opportunistic short term thinking. His mission here has been to "futurise" the organisations, but particularly their management teams, to lead the everyday activities of the company from the basis of more fundamental and far-reaching vision.
Wilenius has had a deep interest in understanding how culture can be seen more clearly as an asset for the whole society as well as for the companies. In 2004 he published a widely appreciated book "Towards Creative Economy". He has continued this work by using values assessment methods with a number of companies to analyse their current organisation culture. In 2006, he published e a book based on intensive research on creative knowledge capital. In 2008, he published a book "Mediators" on media communication, where they critically looked at the challenges on responsible communication. In recent years, he has published a number of articles and given numerous speeches on the topic of corporate responsibility, pressing companies to understand the benefits of creating shared value.
In Allianz SE, world's largest property & casualty insurance company, Wilenius focussed first on strategic foresight & research and development in Group Development, building new model for assessing trends that have potentially major impact on Allianz. During 2009, he led Trends & strategy unit in Economic Research & Corporate development department. He launched "Rejuvenating Allianz" initiative that led to development of a new service model to match the growing demands of flexibility and convenience in the market.
Wilenius has been increasingly active internationally and he has spent considerable time abroad with various projects. He is Vice-Chair of the advisory board of the European Futurists Conference, a body for professional European futurists. In 2001 Wilenius was awarded the international Aurelio Peccei prize by L'eta Verde organisation, based in Rome. As natural a part of his scientific activities, he has given innumerable lectures is his home universities as well as abroad. In 2009 Emerald Literary Network awarded him for the most outstanding article of the year.
List of Publications
Climate in the making: Using Delphi for Finnish climate policy Futures Wilenius Markku Tirkkonen Juhani 1997
Building a regime for climate protection: Finland and international climate policy Global Environmental Change Wilenius Markku Tirkkonen Juhani 1998
Sociology, modernity and the globalization of environmental change International Sociology Wilenius Markku 1999
Risk landscapes in the era of social transition Futures Kamppinen Matti Wilenius Markku 2001
Climate change, living environment and ways of life Studies in Environmental Science Järvelä Wilenius 1995
From Science to Politics: The Menace of Global Environmental Change Acta Sociologica Wilenius Markku 1996
Defining alternative national-scale socio-economic and technological futures up to 2100: SRES scenarios for the case of Finland Boreal Environment Research Kaivo-oja Jari Wilenius Markku Luukkanen Jyrki 2004
Towards the age of corporate responsibility? Emerging challenges for the business world Futures Wilenius Markku 2005
Cultural competence in the business world: A Finnish perspective Journal of Business Strategy Wilenius Markku 2006
Demographic change as a challenge for societies at large From Grey to Silver: Managing the Demographic Change Successfully Wilenius Markku 2011